SSAT Boot Camp 2017
By Ski and Snowboard Association of Thailand in cooperate with HIGASHIKAWA City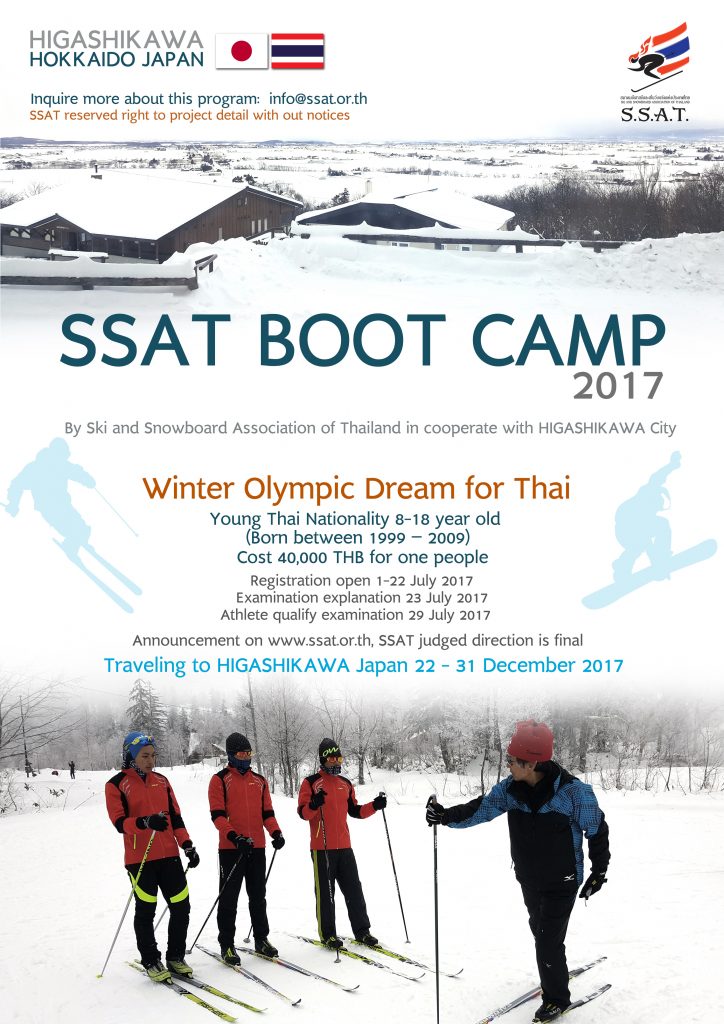 Winter Olympic Dream for Thai
Qualification
Young Thai Nationality 8-18 year old (born between 1999 – 2009)
Open for Ski 15 people
Open for Snowboard 15 people
Cost 40,000 THB for one people
This cost will be inclusive:
– Air Ticket Bangkok – Japan round trip
– Local transportation in Japan
– Accommodation (room and standard for athlete)
– SSAT cover cloth for Training
– Ski or Snowboard Equipment during Training Period
Parent could join this program with their child with cost 60,000 THB per person.
Registration open 1-22 July 2017
Examination explanation 23 July 2017
Athlete qualify examination 29 July 2017 and make announcement on www.ssat.or.th
SSAT judged direction is final
Payment:
Cost of this project will be done by Funding donation to Ski and Snowboard Association of Thailand with in 5 August 2017
Regarding to Thai Law: This cost can be Tax reduction for double amount.
http://www.rd.go.th/publish/fileadmin/user_upload/kormor/newlaw/596.pdf
Traveling to Japan 22 – 31 December 2018
Inquire more about this project: info@ssat.or.th
Application document list:
– Application form SSAT BOOT CAMP 2017 Registration Form
– Photo copy of Thai National ID Card
– Photo copy of House registration
– Athlete Photo (White background Visa standard)
Submit all above document to info@ssat.or.th
SSAT reserved right to project detail with out notices
Please keep in touch on this web pages for future notices.
www.ssat.or.th/th/2017/07/02/ssat-boot-camp-2017